A new report is predicting high-rise buildings will grow in popularity. That is why Hird continues to invest in cutting edge crane and vacuum lifting technology to allow architects to lift their eyes to the skies.
AMA Research, which provides market research and consultancy services in the construction sector, says population growth and intensifying of urbanisation are driving buildings ever higher.
It says factors that are potentially limiting the development of high-rise structures include technical challenges, such as pumping and placing concrete and "craning and lifting items to extreme heights".
As a key specialist contractor supporting the high-rise construction industry, Hird is responding vigorously to the materials lifting challenges identified in AMA Research's latest market report on the high-rise construction sector.
It is investing in – as well as commissioning and helping to design – the latest mini crane and vacuum lifter technology, to allow high-rise towers to be built more safely and more quickly.
AMA Research defined high rise buildings as having at least 15-20 storeys. It says there are more than 270 such high-rise buildings currently in the UK, 70 per cent of them in London.
Hird lifting equipment, including glass vacuum lifters, spider cranes and glazing robots, have been used on many of the most prestigious high-rise building projects in the capital over the last five years.
The number of high-rise projects in the pipeline, either proposed or approved, has risen to 500, 85 per cent in London, the rest clustered in key urban areas, such as Birmingham, Liverpool, Manchester and Salford.
Seventy per cent of all schemes in the pipeline are residential. A small, but significant number are for student accommodation.
Hayley Thornley, Research Manager at AMA Research, says: "The proportion of mixed-use schemes in the high-rise buildings pipeline is set to grow. Around 18 per cent of developments, either under construction or proposed, have a mixed-use function."
Hird Director John Wilding said: "Architects are continuously pushing the boundaries of what is possible in construction. So, it is not just how high buildings are, but how they are designed.
"With structural glass now a very substantial component of many high-rise buildings, vacuum glass lifting and installation technology is critical. We are running fast to keep up with what is in the mind's eye of the architect.
"Many of our glass installation and curtain walling clients come to us and say, 'We need to be able to lift x number of panels of glass of this size, weight and shape into these positions within this time-frame, how can you help us?'
"First, we look at what we already have to do the job. Increasingly, though, we have to go to a glass lifting equipment manufacturer and say, 'We need a vacuum lifter that can do this and this, can you build it?'
"It's like a glass lifting technology race. The faster we think we are covering all bases, and can supply the equipment our clients need, the faster the architects and structural engineers come up with new challenges."
Hird already has, arguably, the widest range of vacuum glass lifting equipment, and associated mini cranes, including pick and carry cranes and spider cranes, to keep glass installers happy. But more is being added all the time.
Here are 6 of the newest glass lifting machines designed to keep high-rise construction contractors hard at work:
Fin Lifter
The ground-breaking Fin Lifter vacuum glass lifter has been exclusively manufactured by Kappel for Hird, based on our design, to lift structural glass fins. It starts as an 8-in-line vacuum lifter with a maximum safe lifting weight of 1,320kg. With its extension arms fitted, the fin lifter can be extended to an impressive 9m in length, with capacity of 1,800kg.
Oktopus glass manipulator
Buildings are becoming more complicated as well as taller. Many have services and supporting structures on the outside, for ease of maintenance. That's why we have invested in the With Oktopus GL-CC777600 glass manipulator. It's a vacuum lifter attachment that can be combined with a mini crane to lift and manipulate glass panels in any angle and plane required, up to 800kg in weight depending on the configuration chosen.
Hydraulica 3500 glass vacuum lifter
The Hydraulica 3500 vacuum glass lifter is also known as the Brutus. It is a leader in a new class of what we call super heavy glass vacuum lifters. With a maximum lifting capacity of 3,500kg, it is ideal for lifting the large glass panels that form key components of modern high rise buildings, including those with multiple laminated layers to make them bomb-proof.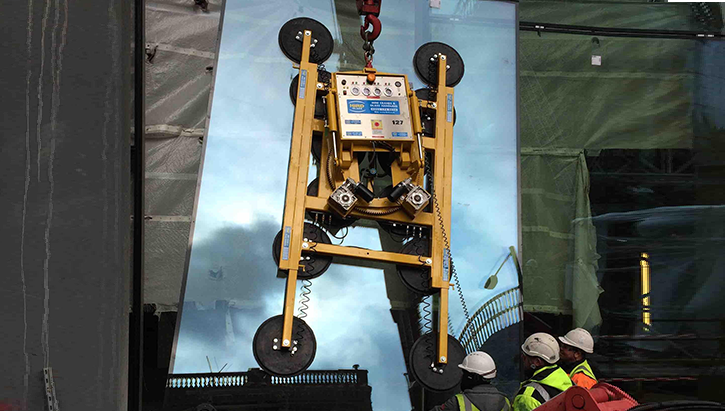 Winlet 1000 glazing robot
The Winlet 1000 is the latest model in the innovative range of Winlet glazing robots available from Hird. Its compact design makes it ideal for inside-out glass installation in high-rise buildings. Unique design and safety features reduce manual handling significantly and increases productivity. The Winlet 1000 glazing robot also has an impressive lifting capacity of 1,000kg.
Hydraulica 1200.2 glass vacuum lifter
Architects are designing structures to be bolted together using pre-constructed panels, in increasingly unusual shapes. It is one way they can build higher and faster. The new Hydraulica 1200.2 has been created to meet these challenges. It has key new features that allow it to lift irregularly-shaped panels, as well as remote-controlled powered tilting and rotation of loads up to 1,200kg in weight.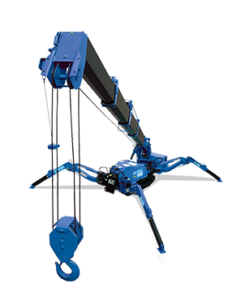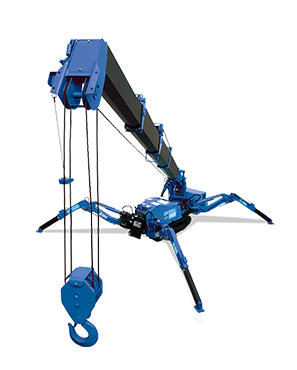 Maeda 285 spider crane
The Maeda 285 spider crane is a negative lift marvel. A game-changer even. When fitted with an auxiliary winch, it has a negative lift duty of 900kg at 100 metres. The next most capable mini crane on the UK market can achieve a negative lift duty of 800kg at 59.4 metres. Hird has supplied the Maeda 285 and auxiliary winch combination to support construction of 31-storey Dollar Bay, one of London's latest residential skyscrapers.
Hird is continuously investing in new equipment to meet the challenge of glass and curtain wall installation in high-rise buildings. This time next year, we will almost certainly have six more industry-leading glass lifting machines, all new to market.
We are always ready to speak to any architect, structural engineer or glass installation specialist who faces a new construction challenge and needs the best material lifting solution.
Our glass lifting hire fleet is available across the UK from our three regional operating hubs. We also deliver accredited glass lifting and crane operator training.
Email: [email protected]